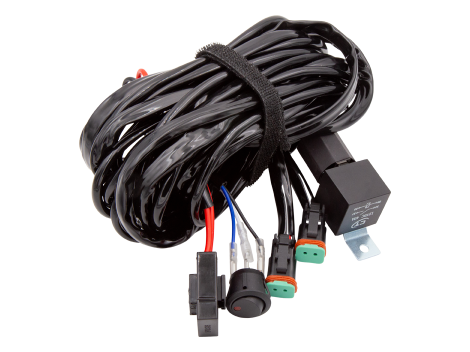 Two Lamp LED Work Light / Lightbar Harness
HDHAR2DT
2 lamp work light / lightbar harness w/Deutsch Connector termination. Perfect for use with installation of a two work light or lightbar system.
Technical Specifications
Voltage: 12-24 (12V relay included)
Terminals: Deutsch (DT06-2S)
Features
Designed for 12V or 24V, 15-180W system
40A (12V) relay included
*40A (24V) relay optional / Not included
30A inline fuse
16 gauge shielded cable
Includes round flush mount LED rocker (type CE) switch
Overall harness length is approximately 18'. From the rocker switch to the relay is approximately 9' with a built in weather tight plug 3' from the rocker switch allowing the installer an easy way to disconnect this switch section of the harness for routing through the firewall. Once the relay is secured, generally near the battery, the harness offers an additional 9' of shielded cable for routing to your lighting. The termination includes two standard 2 pin weather tight female Deutsch (DT06-2S) connectors. Of course Deutsch connectors can be easily removed if your connection choice is different.